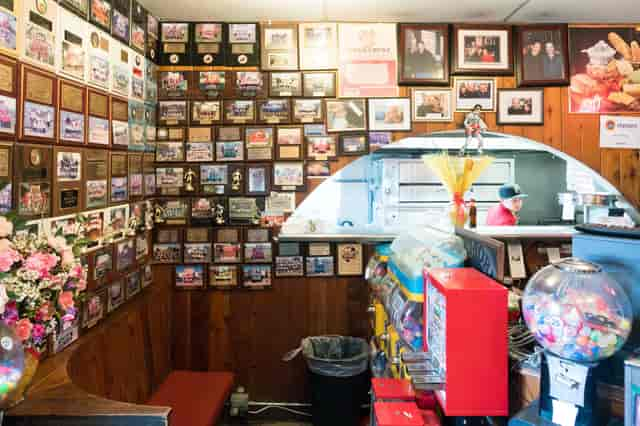 About
Our Story
The Pizza Cookery has been serving up delicious pizzas, pastas, salads and warm bread to happy customers since 1975 in California. Our goal is to always serve the best tasting pizza in town in the friendliest environment – and our reviews, awards, and long time customers prove our desire to always do so.

Whether you fall in love with our open-view kitchen, sawdust floors, warm delicacies, garlic rolls, enormous serving sizes, or friendly wait staff – many who have been with us for over 10 years - you'll leave happy and full every time. Our pizza has won numerous awards and continues to be honored year after year in leading magazines, newspapers, and television stations in Los Angeles.
Voted As A "Favorite" By Daily News
A spokesperson says, " the Upper crust – forget the tiresome Chicago – N.Y. debate: we are going for what's the best all around, 'Custom Pizza' in town, and you'll be surprised at what we found. Sawdust covered floors and exposed kitchen, so you can watch cooks throw the dough in the air while you wait. The pizza is lovely – thin, crisp, herby tomato sauce with just the right amount of seasoning and it's very cheesy. We like fresh mushrooms, pepperoni and sausage, delicious and liberally applied. Notice the wall-to-wall appreciation plaques; the owners sponsor soccer teams, baseball, softball and other sports teams." "Celebrities love their food, John Travolta tried the pizza and loved it," the spokesperson says. "Danny Trejo loves the pasta entrée and Robert Davie, the salads and subs." Come in and enjoy the finest cuisine and coziest atmosphere. Ask about their Sunday entertainment.

Exposure from all the nearby cities has put The Pizza Cookery on the map! Pizza-lovers from all over the San Fernando Valley, Encino, Northridge, Reseda, Chatsworth, Mission Hills, Woodland Hills, Sherman Oaks, Studio City, West Hills, Santa Clarita, Simi Valley and more come to try our authentic Italian pastas, salads and pizzas!

The Pizza Cookery is a hot-spot for celebrity sightings! What else would you expect from the "Valley of the Stars?" A-listers can't get enough of our famous pizzas! So watch out next time you're dining at Pizza Cookery – you'll never know who's sitting at the table next to you!